Snowmobile ($)
Access more than 2000 kilometres of groomed and maintained snowmobile trails.
For a short introduction to snowmobiling or a several-day snowmobile tour, we have vehicles and guides available to help you enjoy a fantastic outing on the surrounding region's snowy trails. The Lanaudiere region is renowned as a snowmobiler's paradise.
Because of the high quality of its snow cover and trails, the Lanaudiere region (www.snowmobilecountry.ca) can offer a wide range of snowmobile packages from early in December to the end of March.  More than 2300 kilometres of well – maintained and clearly marked trails are available for snowmobilers to enjoy.  All along the trails, you can take in an array of scenic vistas made up of mixedwood forests, frozen lakes, and small valleys. Click here to see the current trail conditions.
Choose the snowmobile package that suits you best !
Are you a true enthusiast who wants to discover the region? Why not rent one of our Bombardier 550 cc GTX snowmobiles? After getting instructions, you can make your way straight into any one of the trails starting at the Inn, and take delight in the beauty of the landscape.
Are you a first-time snowmobiler? No worries! Choose a snowmobile package with one of our experienced guides ($).  Accompanied by an expert snowmobiler, you'll travel over the trails on the half-day or full-day snowmobile package of your choice.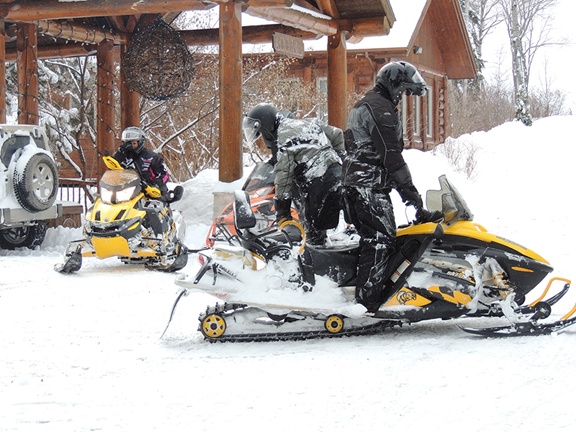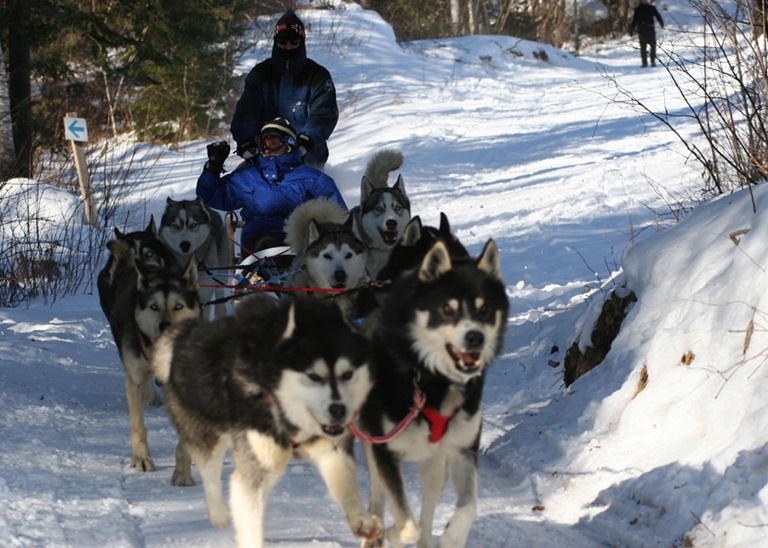 Dogsledding ($)
Mush… Mush… all along the snowy trails
Get ready for an extraordinary expérience as you embark on a dog-sledding excursion.  Become a musher while on an outdoor trek as you are pulled along by a pack of magnificent Huskies.
Our experienced guides will train you on how to lead a dog sled team.  You can then criss-cross the snowy trails of the Lanaudiere region and fully enjoy your outing as a family or a couple.
They're off!
It's your first time out and you're eager to discover this outdoor actvity that has been practiced for ages in the snow countries…  Choose an 8 km introductory dog-sledding ride during which -for 45 minutes- you will have the pleasure of travelling along wooded trails to the rhythm of your team of Siberian Huskies.  Children of ages 6 or older are welcome to take part.
Extend your pleasure by offering yourslef a half-day outing on which you can get a real thrill while riding over 25 km of trails in perfect harmony with the dogs.  You'll feel the wind blow across your cheeks as you are overcome by a sensation of quiet power, at one with your team of 6 to 8 dogs.
Bring time to a standstill and enjoy a wonderful experience with your colleagues!
For a truly unforgettable time with your work team of colleagues, you can organize the ideal dog-sledding package to meet your needs.  Friendly competition, relays, a thematic in a refuge…everthing is available to ensure the success of your activity.
Ice Fishing ($)
Ice-fishing fans: to your tip-ups!
An ideal activity for the whole family, ice fishing or "pêche blanche" as it is called in Québec, is a true delight for fishermen young and old!  Accessible to all, and a perfect introduction to your snowy winter holidays, ice fishing is a delightful way to enjoy the intense winter sun.  Comfortably set up on the thick ice, you'ill be in perfect position to tantalize the trout!
Our staff will be pleased to cut a hole in the ice you and demonstrate some ice fishing techniques to get you started.
Yummy!  Delicious trout!
Outfitted with tip-ups and bait, you'll have everything you need to successfully catch and then enjoy a tasty smoked trout *($) at the Inn's smokehouse during your evening dinner.  Would you prefer to cook your trout at home? It's a wonderful way for you and your family or friends to recall the fun you had on your winter holiday.
During the Christmas and New Year's weeks, as well as on the school break, look for the programme posted in our activity centre to sign up for a fishing outing led by a guide.  At other times of the season, you can ice fish on the lkae from 9 am to 5 pm, as long as the ice is deemed securely frozen.
Looking for a challenge?
Why not propose this great activity for your group? We can organize a fishing challenge that will live up to your expectations.  Will you be the first to reel one in, or will you catch the biggest trout in the Lanaudière region this year?  We guarantee great times filled with laughter and pure joy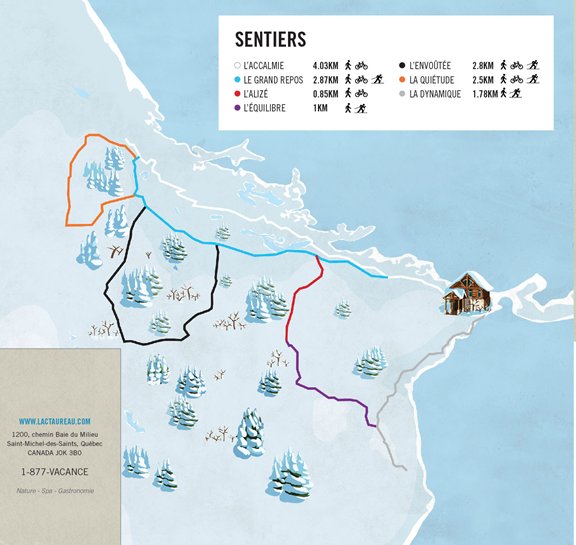 Winter hiking
Come walk on our frozen lake or in one of our magnificent forest trails!
Let yourself be guided by our different paths silencing the immense forest that surrounds the Auberge. We have more than 23 kilometers for everyone! You can choose between several directions to make the fun last all day. Be careful not to lose yourself! Do not forget your map of the trails.
Cross-country skiing
The pleasure of gliding along on cross-country skis
Among the many family activities offered at the Inn, cross-country skiing has quite a following. Easy to do, cross-country skiing allows participants to discover Quebec's wide-open spaces and snowy forests while participating in a semi-strenuous physical activity. Novice and intermediate skiers will have fun discovering our trails on a route that covers a total of 23 kilometres. When the moment strikes you, you can choose from our 4 marked trails in the wooded areas surrounding the Inn. If you've got children with you, you can opt for our shortest trail, and finish off your adventure with a delicious hot chocolate in the beautiful surroundings of our bistro-bar. The more athletic among you can race along the trails at a steady pace to keep up your cardio workouts, even while on vacation.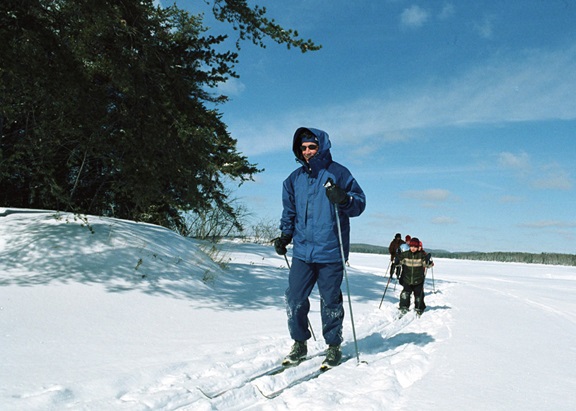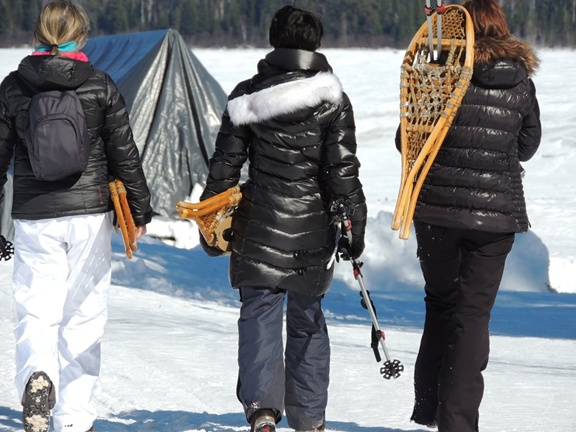 Snowshoeing
Enjoy winter at your own pace
Long used by adventurers to get around in the forest, snowshoes make it so much easier to explore our snow-covered wide-open spaces!
Today, snowshoeing has won over nature and outdoor enthusiasts. Easy to handle and offering great mobility, snowshoes can be used by anyone. Adults and children can familiarize themselves with the sport in just a few minutes before heading out on our marked trail. This winter activity has become an absolute "must" in Québec, and is now extremely popular. Snowshoeing over the snowy fields is a fantastic way to discover nature, enjoy the landscape, and observe fauna in the silence of the forest. The swishing of your snowshoes is the only thing that will distract the small animals in their natural habitat.
Hockey
Ice hockey is part of Quebec's sporting tradition in its purest sense. As a favourite activity of Quebecers, a hockey game-on skates or simply in your boots-is a wintertime must. The skating rink, located right in front of the inn, is available for many winter activities, including hockey. The activity centre has a variety of sports equipment to offer. Among the items available: skates ($ rental), hockey sticks, pucks, and numbered jerseys for you to use and have fun with during your stay at the inn.
Base your game on the number of participants, playing in teams of three against three or six against six. No need to be an expert to have fun and score a few goals. What's important is to get moving, breathe in some fresh air, and take advantage of our Quebec winter. Combine enthusiasm and energy, and you'll have what it takes to put together a dream team for a friendly game out on the ice! The rink lights stay on until the end of the day… take advantage and play your game with family or friends.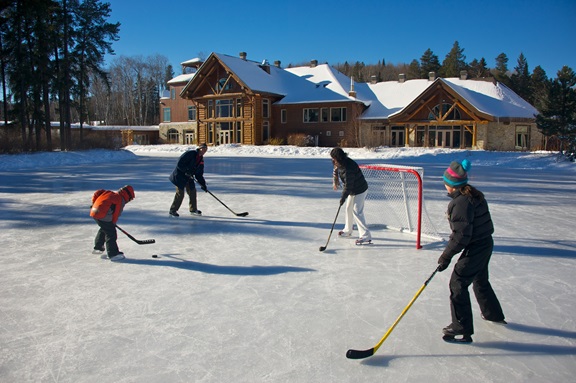 Fatbike ($)
Cycling during winter? Oh yes!
Ride all around our marked trails on one of our fatbikes, specialized bikes to perform in the middle of winter! Thrills guaranteed! The fatbike is easy to practice and enjoyable for the whole family. Discover Québec's snow-covered forests while practicing physical activity: it's priceless!
Our amazing trails for fatbike is a total of 23 kilometers! There are four trails suitable for different cycling levels. Whether it is for 1h, 3h or all day, you will have fun guaranteed to ride all our trails!
A deposit of $ 250 per bike is required.
Trapper's Trail ($)
Become a "wood runner" and go hiking in the forest with our trapper guide.
Discover all the secrets of nature with the help of a real trapper. He will tell you a multitude of advice, stories and knowledge about this immense forest that surrounds us. You can walk safely in a guided and above all, entertaining and constructive way!
Listen to your guide enriching your mind in a trapper conference!
Learn more about life in nature at a conference given by a guide who knows a lot about the secrets of the fauna and flora around us!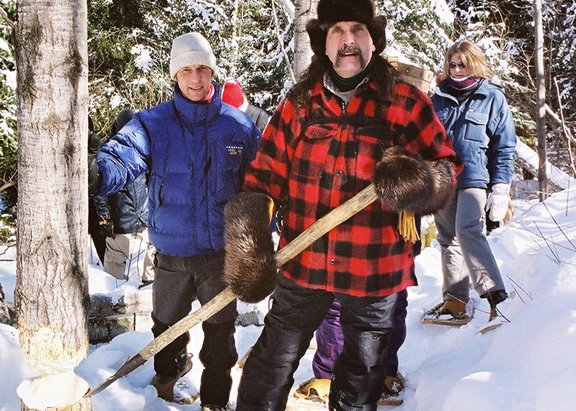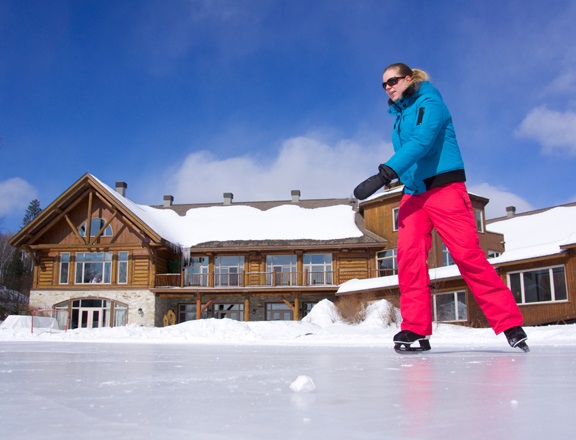 Ice skating
Romanticism and elegance on ice
For those who wish to make the most of the pleasures of the winter season, ice-skating remains high on the list of activities for couples and families. Take some time to skate on the pond in front of the Inn-it's an ideal opportunity to enjoy the cool weather. Accessible at any time, the rink lights stay on until 11 p.m. The skating rink can be used for many activities including broomball, hockey and, of course, a romantic glide around the ice! You can also rent skates at the activity centre and have fun during your stay. Hockey sticks and brooms are also available so you can start up a friendly game.
Snow Rafting
Go down our snowy slopes!
Looking for adrenaline? Come enjoy our brand new course of snow rafting. With friends or family, nothing equals the experience of Mount Taureau !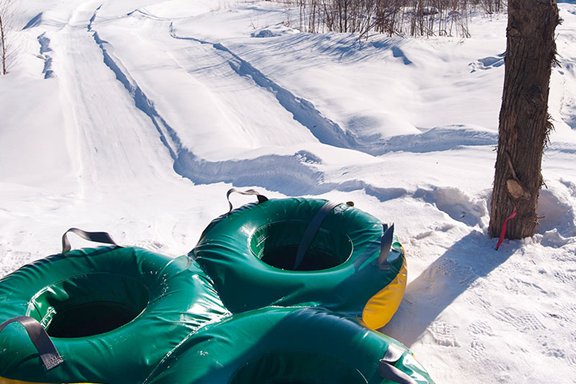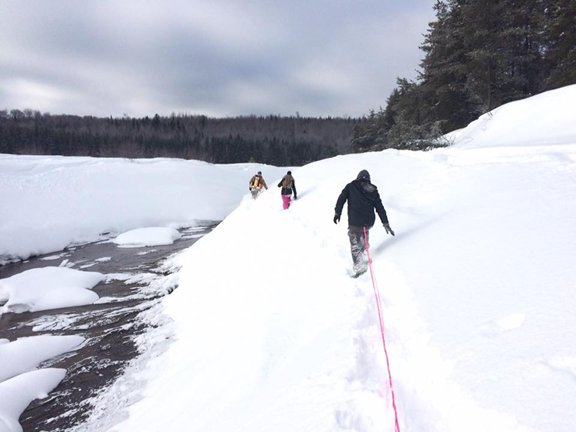 Discovery of the glaciers ($)
Face the cold winter and live a new experience!
Ready for an unusual excursion? Put on your warm boots, toques and mittens and explore the frozen edges of the lac Taureau! Accompanied by a guide, you will walk along the shore of this enormous reservoir to discover the beauties of the winter landscapes of the region. It's not every day that we have the opportunity to be an adventurer and to visit glaciers!
This activity is a duration of 2 hours.
Winter wildlife observation (GR)
Take a deep breath and observe!
What a pleasure to do a hike in the wilderness in winter! The marked trails near the Inn are impressive with the huge snow-covered trees! In the calm of the winter, the delicate noises of the animals of the forest inform us about their discreet presence.
Lovers of photography, it is time to capture these tender moments. The Québec wildlife contains various species of animals; and the region of Lanaudière is particularly favorable to the observation of the fauna and several species of birds present during the winter season. It is often with astonishment and curiosity that young and old will discover the traces left by the animals. Who will find out which animal these tracks belong to? Let yourself be taken to the game!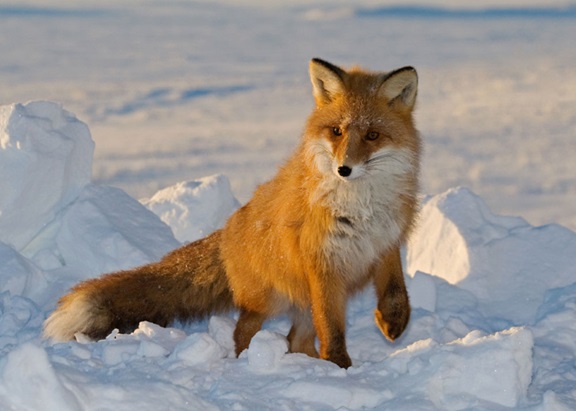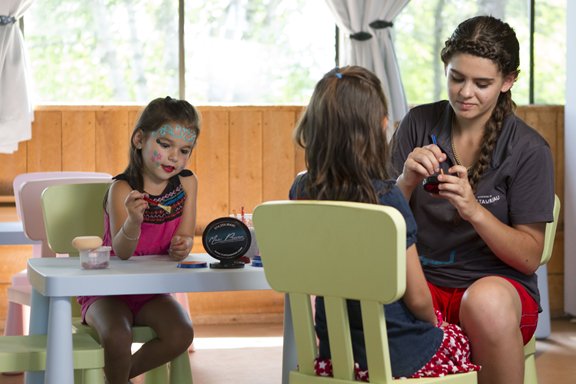 Youth Pavilion
A room full of toys? The dream for your kids!
Let your children spend 1 hour, half a day or a full day in a room filled with toys. The passage of your child can be animated by a animator with some fees. You can still access the Youth Pavilion at any time by supervising your children at no cost.
Children from 3 to 12 years old.
Indoor Pool
Go swimming between two activities!
Come and enjoy our heated indoor pool located in the heart of our Inn. Large enough to accommodate young and old, our pool is open until 11pm each day. It has a shallow place, ideal for young children. And do not bring towels; we provide them for you!
Fun for the whole family!
The children, like the parents, will be delighted to have fun in our swimming pool. Frittes, balloons and other inflatable toys will entertain the whole family! Between two jumps, guests can relax on the sun loungers provided.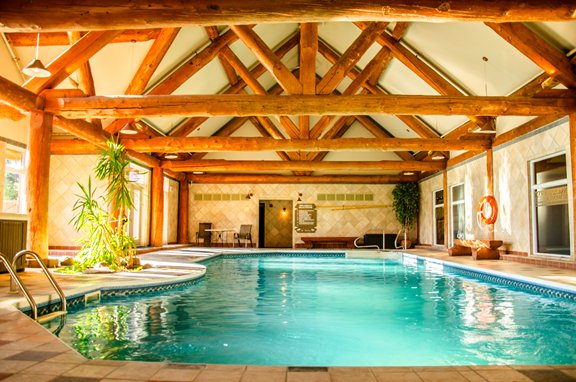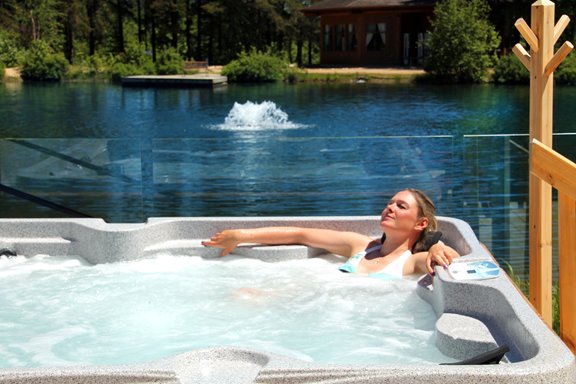 Whirlpool baths
Relax during the summer and the winter!
Under a sunset in summer, or after a snowmobile ride in winter, our whirlpools are the place to relax! Recharge your batteries by bathing in one of our five hot tubs! If it rains, no problem as one of them is located inside right next to the pool. For the others, they are located on a large terrace with deckchairs where you can relax with a breathtaking view of the pond.
Have a massage!
To make the most of your relaxation, book a massage at our Health Center. Following your treatment, you can unwind in one of our whirlpools to unwind as much as possible!
Ski-plane rides (GR)
Admire the snow-covered Saint-Michel-des-Saints region and its frozen lakes from the air.
Live a new experience! Fly in our hydraski to admire the beautiful landscapes surrounding Lake Taurus seen from above! This aircraft can accommodate from 1 to 6 people, and the flight is approximately 20 minutes above the breathtaking Taurus Reservoir!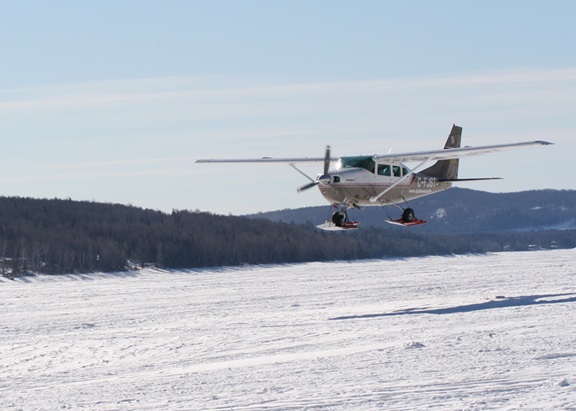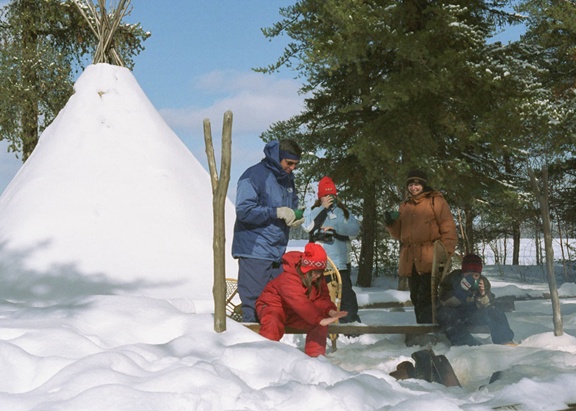 Group activities at the Atikamekw site (winter) (GR)
Introduce your group to Atikamek culture!
A tipi filled with legends and stories that just needs to be told awaits you on the shores of Lake Taurus. Your guide will tell you how this group of Amerindians lived before; their habits of life, their customs, etc. The Atikameks are in fact a native american group of Quebec who occupy the area even today. During this activity, you will be able to feed your knowledge and learn more about this people!
Evening activity (GR)
Make awesome parties with our organized activities!
Choose from one of our evening activities and make it a memorable one! Our whole team is ready to take care of the organization and the animation of these evenings. It's up to you to choose between:
Dancing evening
Band night
Casino night
Karaoke night
Quebec language evning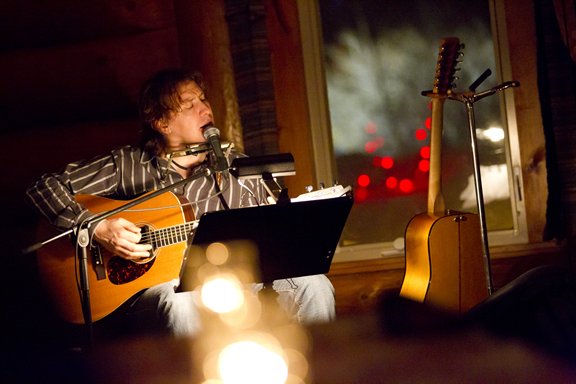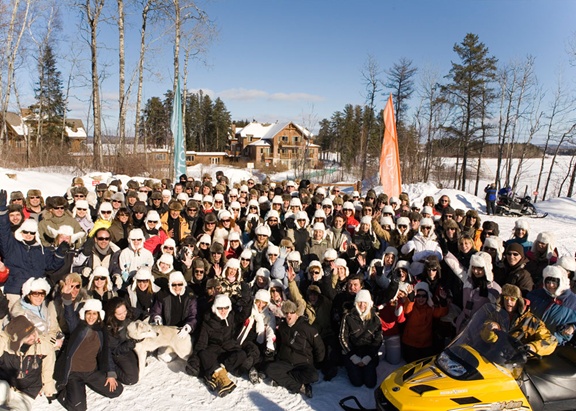 Team bulding (winter) (GR)
More the merrier, the merrier!
Animate your meeting with our activities organized by our animators! A party of fun at the rendezvous; it's guaranteed! Choose between:
Forest survival workshops
Mini-olympics
The adventures Fort Taureau (inspired by Fort Boyard)