Cruise on the Libellule ($)
Everyone on board!
Jump on the "Libellule" and visit the Lac Taureau to discover all the hidden beauties of this reservoir. During 1 hour, you will be guided on this immense expanse of water to discover breathtaking landscapes.
During the summer season, more than 5 departures are organized per day. You can check out the departure times at the reception or with the animation team. This boat can accommodate a minimum of 10 people, and a maximum of 22 people so make quick and book your place!
Inquire about rates for this activity or make a reservation directly at the Animation Pavilion. You can also contact our animation team for more information at 1 877 822-2623 ext. 8406 or by email to animation@lactaureau.com.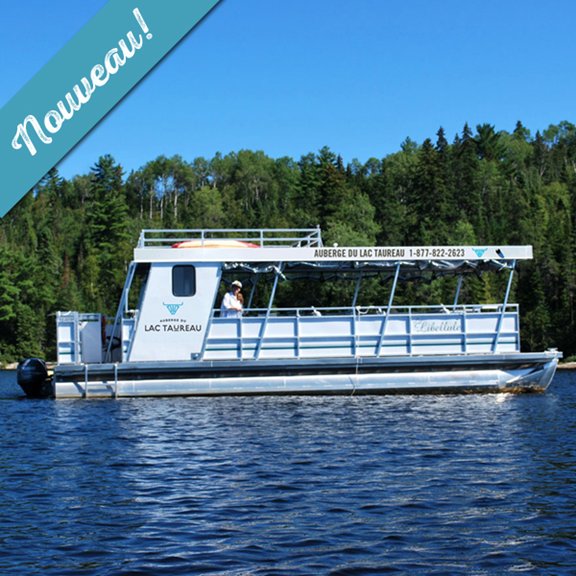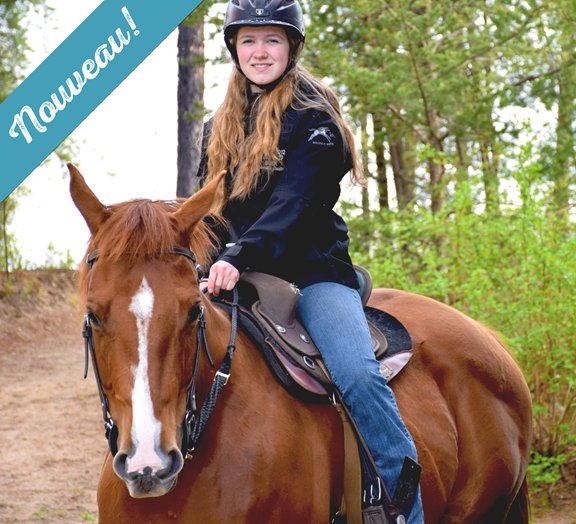 Horseback Riding ($)
Nothing better than to discover the lac Taureau on a horse!
Enjoy an equestrian ride accompanied by a qualified guide in the different trails surrounding the Auberge. The guide will evaluate your ability to ride and provide you with some advice in mastering the horse. Several choices are available to maximize your experience:
Block of one hour
Block of two hours
Block of three hours
You can also take costum courses, either lasso or private riding. For your kids, pony rides are offered with rates at the minute. The coach reserves the right to refuse access for reasons related to weight, age, physical and mental condition, etc. Inquire about rates for this activity or make a reservation directly at the Animation Pavilion. You can also contact our animation team for more information at 1 877 822-2623 ext. 8406 or by email to animation@lactaureau.com.
Personal Watercraft ($)
Go and discover our majestic «Lac Taureau».
being one of the largest lake near Montreal, Lac Taureau is full of things to discover. Through its 95km2 of water, it hides 45 islands and many sandy beaches. You can explore it by only one way : a watercraft.
So jump on one of our watercraft to discover this huge tank! Go to Pointe-Fine, a beach that reminds us the countries of the South!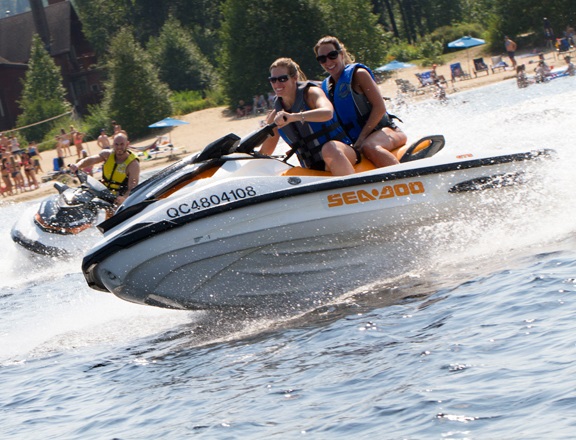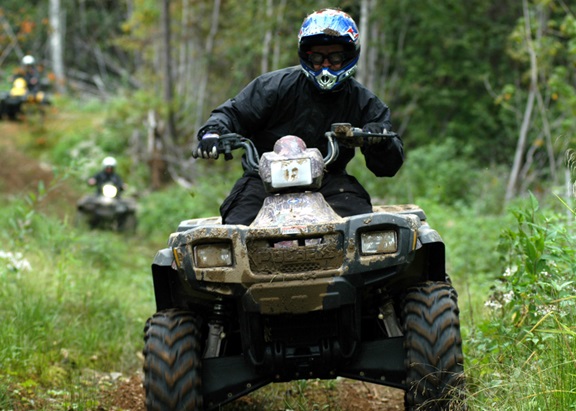 ATV Trail ($)
Over 500 kilometres of well-maintained trails are available for lovers of ATVs.
With friends or family, come and have fun exploring our wooded trails! Discover the forest that separates the Auberge de Saint-Michel-des-Saints and that borders Lake Taureau by spinning at your own speed on one of our all-terrain vehicles (ATVs). A day will not be enough to overcome our trails! You can choose between a Quad and a Side-by-Side (two or four places). Guaranteed fun!
Fishing ($)
All equipment is available on-site for fishing in our ponds stocked with trout
Enjoy a moment of calm as you tempt the trout in the pond located just in front of the Inn. For the ultimate in relaxation, spend some time on the shores of this little lake stocked with fish… it's sure to be a delight, and to provide hours of fish stories and tall tales for you to tell when you return from your trip!
Required equipment and fishing bait are available at the Rental Centre. You have all the time you need to catch a maximum of 5 fish per day.
Looking for a challenge? Our activities team will be pleased to put together a tailor-made fishing session to meet your needs. See who catches a fish first, or who can catch the biggest fish, or who's the most skilled fisherman… Our personnel are sure to make your fishing excursion fun and challenging!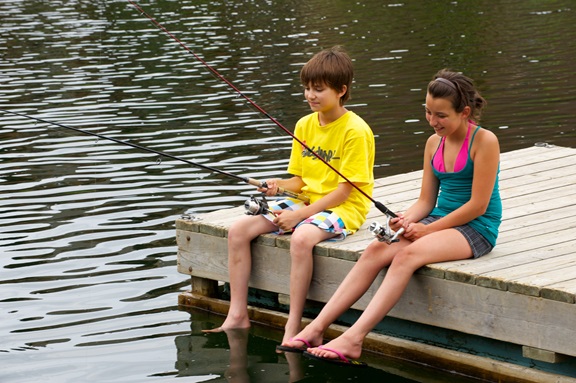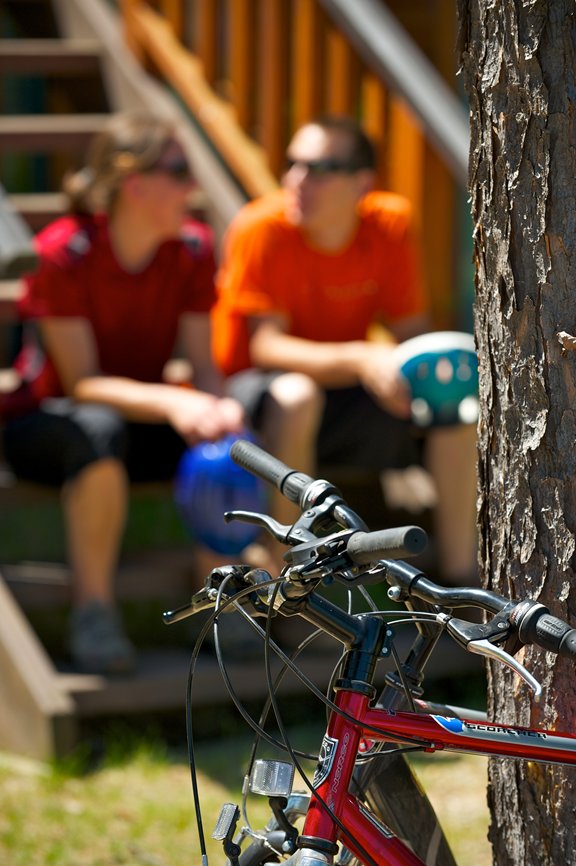 Mountain bike
Face our 23 kilometers of trails by bike!
The vast terrain on the shores of Lac Taureau is crossed by many trails for mountain biking. The 23 kilometers of adventure and pleasure in the undergrowth await you! The beautiful region of Lanaudière lends itself very well to the discovery by bike. Helmeted and gloved, you are ready to live an outdoor trek that is both energizing and exhilarating. Alone or in family, you can ride at your own pace on the marked trails. Check out our trail map so you do not get lost on the way!
Hiking
Come walk on our beautiful trails.
Let yourself be guided by our different paths silencing the immense forest that surrounds the Auberge. We have more than 23 kilometers for everyone! You can choose between several directions to make the fun last all day. Be careful not to lose yourself! Do not forget your map of the trails: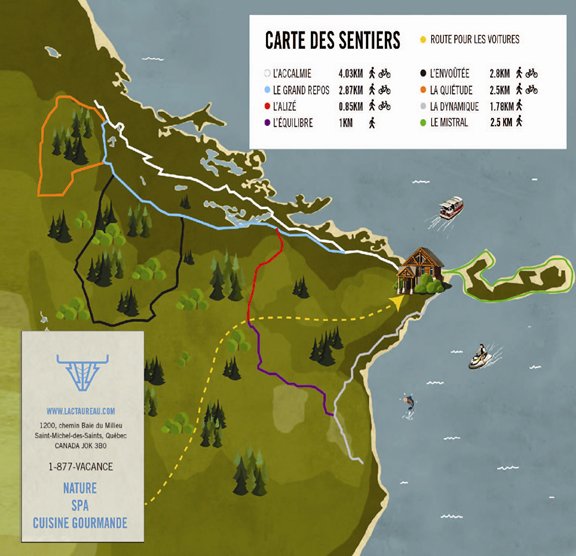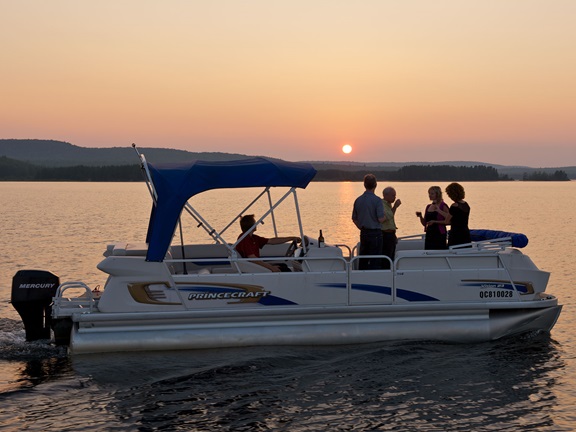 Pontoon ($)
Take a break and enjoy a ride on the lake.
One of the largest lake near Montréal, Lac Taureau is a huge reservoir of 95km2. Its islands and its many sandy beaches make it an exceptional resort, especially for nautical activities. How lucky you are? We ave two superb pontoons just for you, to explore this immense lake, with family or friends!
Inquire about rates for this activity or make a reservation directly at the Animation Pavilion. You can also contact our animation team for more information at 1 877 822-2623 ext. 8406 or by mail to animation@lactaureau.com.
Indoor Pool
Go swimming between two activities!
Come and enjoy our heated indoor pool located in the heart of our Inn. Large enough to accommodate young and old, our pool is open until 11pm each day. It has a shallow place, ideal for young children. And do not bring towels; we provide them for you!
Fun for the whole family!
The children, like the parents, will be delighted to have fun in our swimming pool. Frittes, balloons and other inflatable toys will entertain the whole family! Between two jumps, guests can relax on the sun loungers provided.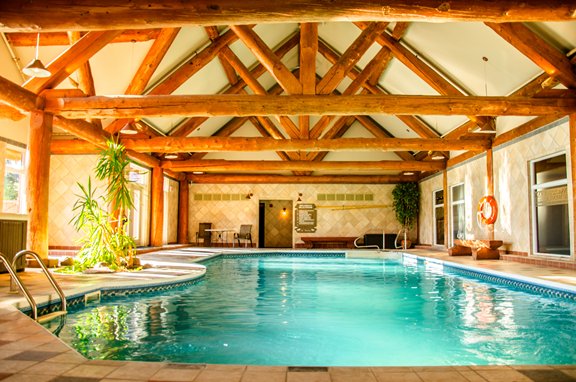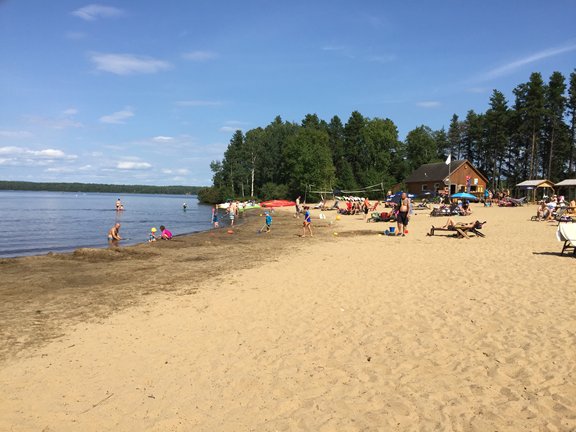 Beach
Everyone to the beach!
Have fun under the bright, hot sun! Offer yourself the luxury of relaxing on the beach and taking a refreshing dip in the magnificent Taureau Reservoir. Located just about 80 kilometres from Montreal, this reservoir, with its 95 square-kilometre surface area, is among the largest. Imagine… 31.7 kilometres of beach to discover and enjoy! Auberge du Lac Taureau is located in the Baie du Milieu sector, giving you access to several beaches and bathing areas. With its large size and many bays, the Lac Taureau reservoir offers a wide variety of bathing options. This body of water pleasantly astonishes and surprises visitors with its beautiful sandy beaches that offer a complete change of scenery!
Fun for the whole family!
Children, like their parents, will be delighted to have some fun on the fine sand. Sandcastles, beach balls, and swimming bring smiles to the whole family! Between dips, you can stretch out on the available lounge chairs or perhaps challenge the rest of the gang to a little game of beach volleyball!
Whirlpool baths
Relax during the summer and the winter!
Under a sunset in summer, or after a snowmobile ride in winter, our whirlpools are the place to relax! Recharge your batteries by bathing in one of our five hot tubs! If it rains, no problem as one of them is located inside right next to the pool. For the others, they are located on a large terrace with deckchairs where you can relax with a breathtaking view of the pond.
Have a massage!
To make the most of your relaxation, book a massage at our Health Center. Following your treatment, you can unwind in one of our whirlpools to unwind as much as possible!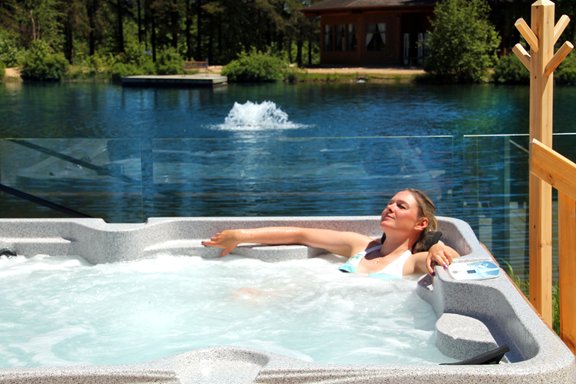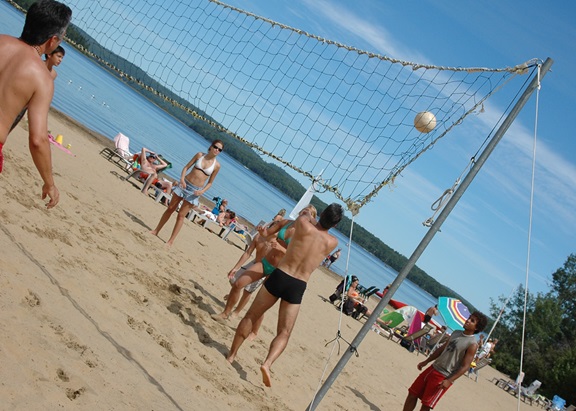 Team sports
Practice several team sports everywhere on our site!
With its location directly on the shores of the reservoir Taureau, the Auberge has a sandy beach allowing the practice of many activities including beach volleyball. With family or with your co-workers, beach volleyball is played in a casual holiday atmosphere. What better than a game of volleyball under a radiant sun!
Being a great enthusiast of this sport, Quebec can not do a season without playing hockey. Even during summer, deck hockey activities are organized. Take a stick and come try with family or friends!
Improve yourself Michael Jordan or Kobe Bryant by confronting your colleagues at a basketball game. Eh yes! Vibrate our soles by dribbling one of these famous orange balloons while having a lot of fun!
And if you like more fun on the grass .. no problems! Come play soccer with us! Put on your shoes and kick the ball in the goal of the opposing team!
Enhance your vacation package with one of our energizing sports activities and you will enjoy a good dose of laughter guaranteed!
Bears and beavers observation (GR)
"We saw black bears!"
What an opportunity! You will be delighted at the chance to safely observe black bears a short distance from the Auberge du Lac Taureau, from the summer season until the end of September. From a viewpoint built on-site specifically for this purpose, you can join a specialized guide to observe and photograph a few black bears that have made this their favourite spot. The guide will tell you about the bears' habits, their habitat, and of course, about safety measures to follow in the forest.
In addition to black bears, you may also have the opportunity to observe other species that make up Québec's fauna. The forest surrounding the inn is teeming with activity, and all you need is a little patience to discover its living treasures.
The bear observation activity is open to those of ages 8 and up.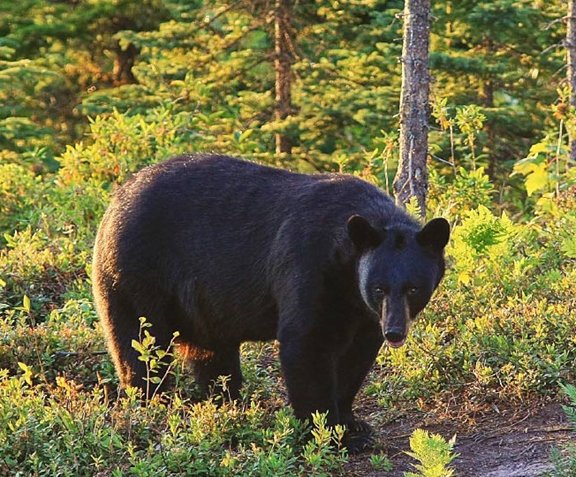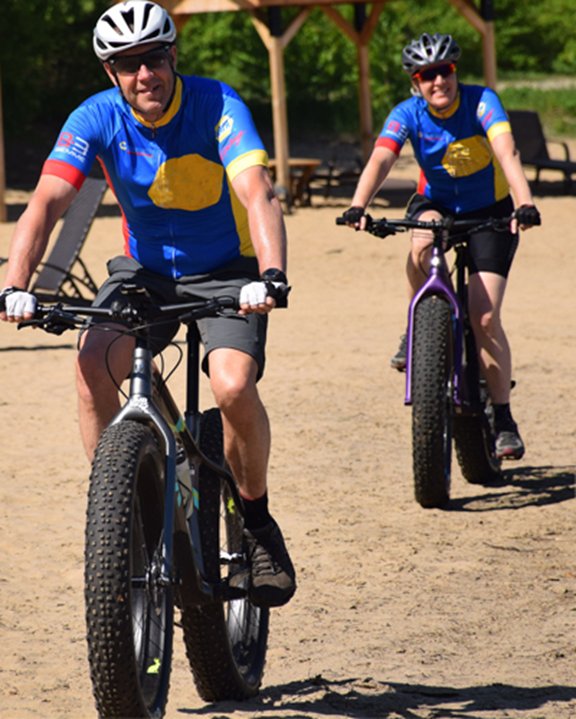 Fatike ($)
Cycling on the sand? Oh yes!
Ride all around our marked trails on one of our fatbikes, specialized bikes to perform on the sandy trails! Thrills guaranteed! The fatbike is easy to practice and enjoyable for the whole family. Discover Québec's beautiful forests while practicing physical activity: it's priceless!
Our amazing trails for fatbike is a total of 23 kilometers! There are four trails suitable for different cycling levels. Whether it is for 1h, 3h or all day, you will have fun guaranteed to ride all our trails!
A deposit of $ 250 per bike is required.
Archery
Come play Robin Hood with one of our five targets!
Control, concentration, silence… and perhaps some contagious laughter! Have some fun, Robin Hood-style, by testing your archery abilities. Five targets located near the tennis courts are available for use by guests. You need simply reserve a timeslot at the reception desk and the equipment will be provided upon request.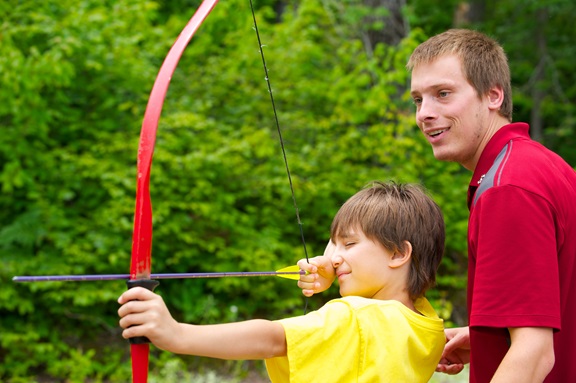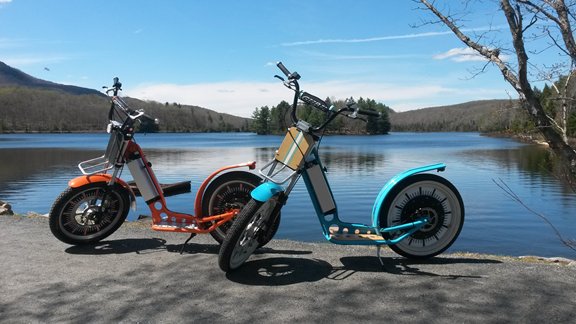 Geebee ($)
Have you ever done electric scooters?
No?! This is the perfect opportunity to get started! Walk our marked trails to the reins of our superb Geebee (electric scooter)! No effort to make, our scooters will do all the work for you! All you have to do is enjoy the breeze on your face as you sail through our different trails.
Our amazing trails for Gebee is a total of 23 kilometers! Whether it is for 1h, 3h or all day, you will have fun guaranteed to ride all our trails!
Two Geebee are available for rental.
Golf ($)
Prepare your tees!
Everyone out on the links for a pleasurable round of golf in a beautiful bucolic setting-take advantage of your time at the inn to enjoy your favourite summertime activity. The Saint-Michel-des-Saints golf club is just about 12 kilometres from the inn. The 18-hole, par 72 course, designed by the firm of John Watson Golf Design, offers a number of interesting challenges, considering its narrow fairways and short yardage. You'll need to use your skills to perform well on this Lanaudière region golf course.
Put together your golf package
Golf on its own, golf and spa, golf and gastronomy… choose the package that best suits you, and enjoy a wonderful, tailor-made golf vacation. Then, let yourself be pampered at the inn's Spa, or relax on one of our terraces… unless you decide to indulge in a gastronomic dinner, with wonderful food and wine pairings! Why not? It's vacation after all, and you deserve to treat yourself while enjoying your stay at the hotel.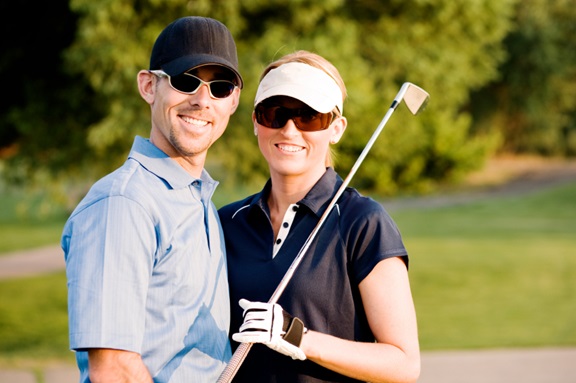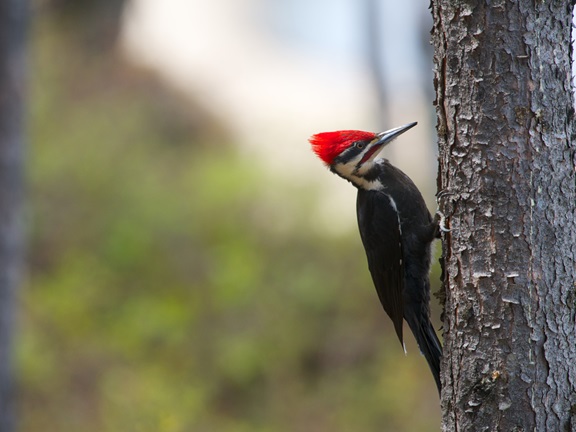 Wildlife observation
Take a deep breath and observe!
To escape the commotion of daily life, plan a nature break at Auberge du Lac Taureau. Located in the heart of the forest on the banks of the Taureau Reservoir in the Lanaudière region, the inn offers an oasis of calm with unlimited access to the surrounding wilderness.
The many kilometres of marked hiking trails located nearby the inn offer easy access to nature and opportunities for wildlife observation. Whether you are interested in ornithology, the fauna or the flora, you will find yourself in the ideal spot to enjoy your favourite activity. Using binoculars, or just by keeping your eyes and ears wide open, you can leisurely listen to and observe Quebec's fauna and the varied flora of the Lanaudière region. Equipped with a map of the hiking trails, you can walk for a few hours or take a daylong excursion. Don't forget your camera to get pictures of the many species of birds that nest in the forest nearby the inn.
Water sport base ($)
Live the experience of the lac Taureau!
Ready for an adventure on the Taureau Reservoir? Get ready to cast off! Several types of watercraft are available to you, allowing you to discover all of the splendours of this immense body of water. With some fifty islands and its 95 square-kilometre surface area, the Taureau Reservoir is sure to thrill the adventurer in you! Whether you are an expert or just looking for an introduction to aquatic activity, you'll find what you're looking for at Auberge du Lac Taureau's Water Sports Base.
It's the perfect opportunity to head out on the lake on the boat of your choice! Can't decide between a kayak, a pedal boat, or a canoe? Take advantage of your stay to test your abilities with each type of craft, and find out which one you like best. Kayak, canoe, sailboard, and pedal boat rentals are free. Have fun with family or friends! Easy access to the calm and shallow water near the beach means even little ones can kayak to their heart's content!
Make your way to the Rental Centre to get your life jackets and paddles. Young and old alike will find rental equipment that's just the right size.
Speed freaks, this way!
Fans of motorized craft will be happy to find they can rent a personal watercraft to set off on an intense exploration of the Taureau Reservoir. Equipped with a map of the lake, you can discover various areas of the reservoir at your own pace. Alone, as a couple, or even with a child, you can explore the surroundings at your leisure and have fun on your ride.
Please note that a valid driver's license is required for the use of a motorized personal watercraft, as well as a credit card to pay for the deductible.
Group adventures
Those who prefer a larger boat that can hold several family members or friends can choose to rent a pontoon. Available for one-hour, three-hour, or even six-hour excursions, pontoons are suitable for small groups of people. Why not organize your adventure to include a stop at one of the beaches for a refreshing swim or for a picnic?
Would you prefer a guided tour of the lake? A schedule of organized excursions is available at the Activities Office-ask for more info! For added flexibility, you can also arrange for a private rental of the pontoon with a guide.
For a group activity that is both quieter yet requires more energy, rent a Rabaska Canoe. Just like the first explorers and the Natives, you can uncover the secrets of the Taureau Reservoir in groups of 10 to 12 people. This activity is the perfect way to conclude a team meeting and can contribute to rallying the troops to meet a common goal!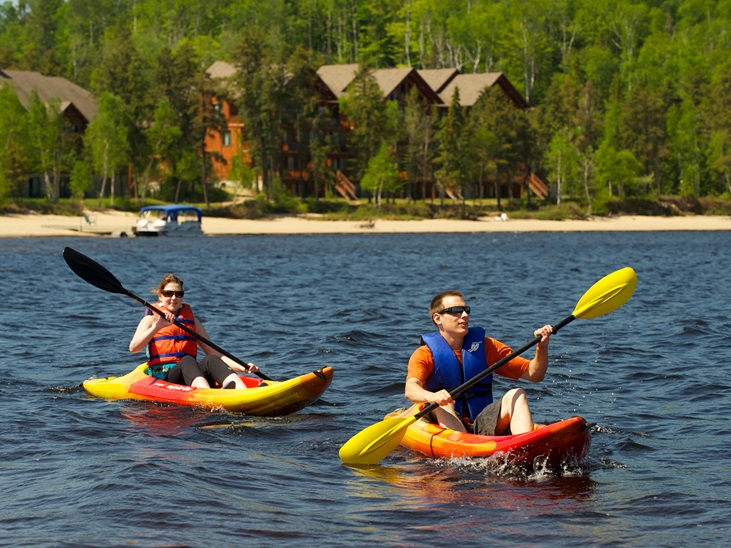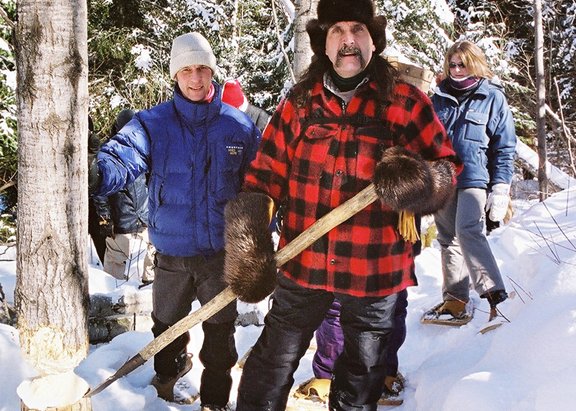 Trapper's Trail ($)
Become a "wood runner" and go hiking in the forest with our trapper guide.
Discover all the secrets of nature with the help of a real trapper. He will tell you a multitude of advice, stories and knowledge about this immense forest that surrounds us. You can walk safely in a guided and above all, entertaining and constructive way!
Listen to your guide enriching your mind in a trapper conference!
Learn more about life in nature at a conference given by a guide who knows a lot about the secrets of the fauna and flora around us!
Outfitter fishing ($)
For lovers of outfitter fishing, paradise is waiting for you.
For a more in-depth experience, combine your stay at the Inn with a fishing package at La Pourvoirie du Milieu (The Middle Land Outfitter) located just a few kilometres away. Its immense 240 square-kilometre territory offers you the opportunity to fish on the largest outfitter's site in the Montréal region. A member of the Fédération des Pourvoiries du Québec (Québec Outfitters Federation), this area features many lakes and chalets to satisfy your desire to explore nature and its surrounding fauna.
Several packages are available according to the desired length of your excursion. You can even organize a stay with the rental of a chalet for the night. All equipment is available on-site, from rowboat rentals to the sale of permits and bait.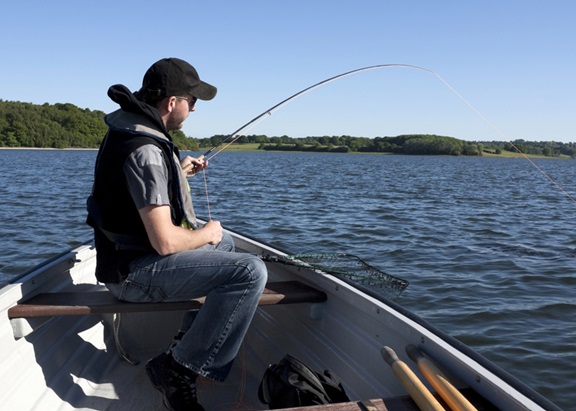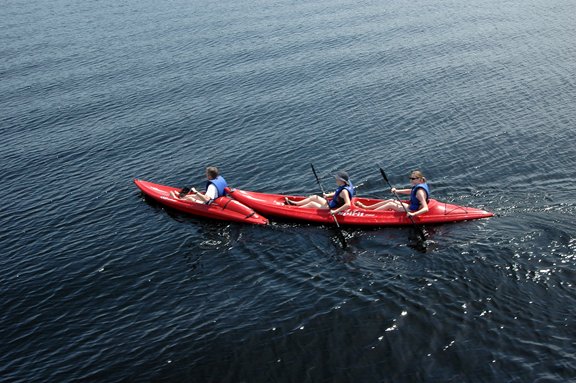 Kayak adventure ($)
Explore the lac Taureau by kayak!
Bring an unusual experience to your family or your kids by offering them a socializing experience, while promoting their autonomy, by a tour with a certified guide, level 2, in sea kayaking. By going on an island managed by and for young people in collaboration with local organizations, they will have an unforgettable experience. You will have the choice of spending the night in a prospector camp or rustic chalet chic! The program:
Departure at 1h00PM
Introduction to the basic techniques of sea kayaking
Ballad of interpretation and fun activities in direction of the island Baribeau
1 rustic dinner on the island per person
1 evening activity on the island
1 night in prospector camps on the island per person
1 rustic breakfast on the island per person
Return to the Inn around 12:00 PM
Night in a Tipi ($)
Enjoy the experience of sleeping like a true Native American!
If you have already visited the Auberge du Lac Taureau, you have probably noticed our tipis located all over our site? We offer you a new experience! Sleep under the beautiful star in one of our typical Amerindian tipis! We will take care to settle yourself comfortably with extra beds and fresh bedding. What is better than to wake up with the rising sun on the other side of the lake and the sound of the waves that hit the shore? This activity is definitely worth trying at least once in a life time!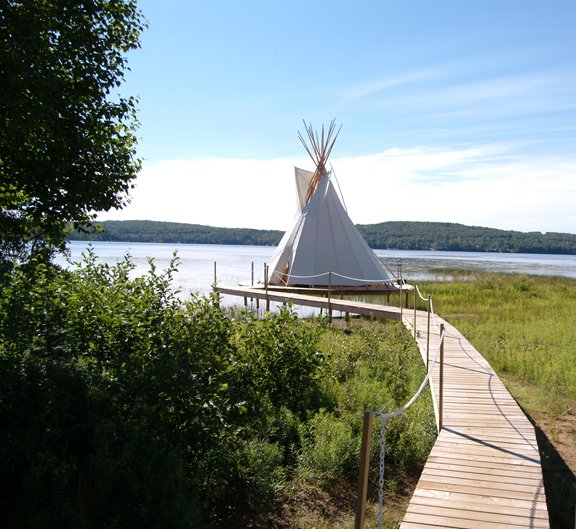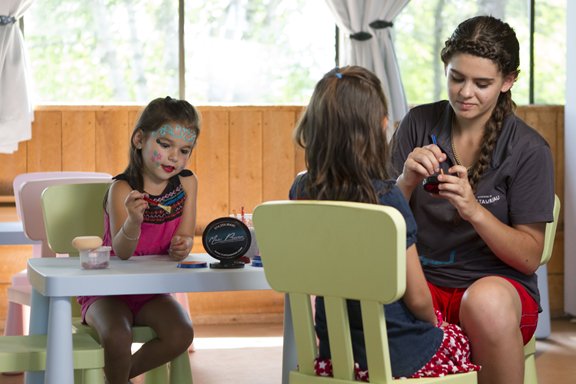 Youth Pavilion
A room full of toys? The dream for your kids!
Let your children spend 1 hour, half a day or a full day in a room filled with toys. The passage of your child can be animated by a animator with some fees. You can still access the Youth Pavilion at any time by supervising your children at no cost.
Children from 3 to 12 years old.
Helicopter (GR)
Enjoy stunning views of the area in our helicopter!
Live a new experience! Fly in our hydroplane to admire the beautiful landscapes surrounding Lake Taurus seen from above!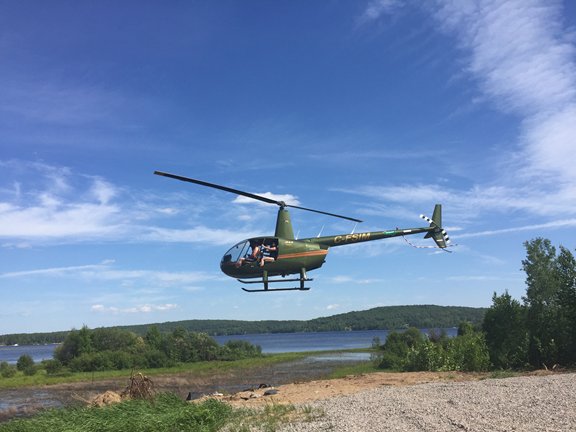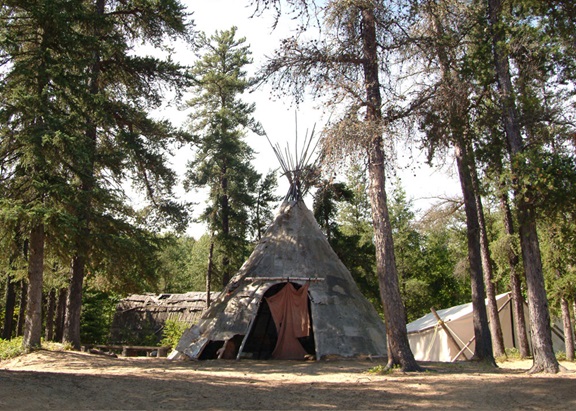 Group activities at the Atikamekw site (GR)
Introduce your group to Atikamek culture!
A tipi filled with legends and stories that just needs to be told awaits you on the shores of Lake Taurus. Your guide will tell you how this group of Amerindians lived before; their habits of life, their customs, etc. The Atikameks are in fact a native american group of Quebec who occupy the area even today. During this activity, you will be able to feed your knowledge and learn more about this people!
Hydroplane rides (GR)
Admire the beautiful region of Saint-Michel-des-Saints from the air!
Live a new experience! Fly in our hydroplane to admire the beautiful landscapes surrounding Lake Taurus seen from above! This aircraft can accommodate from 1 to 6 people, and the flight is approximately 20 minutes above the breathtaking Taurus Reservoir!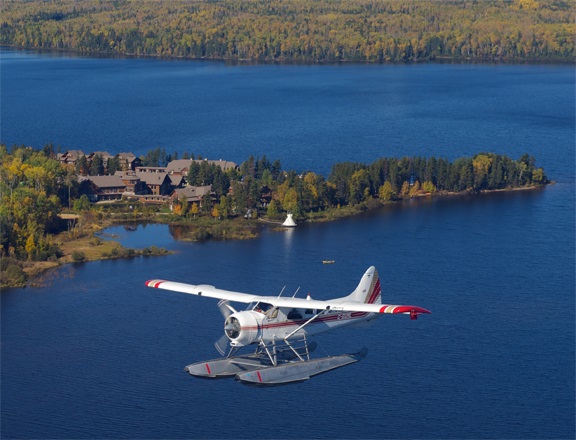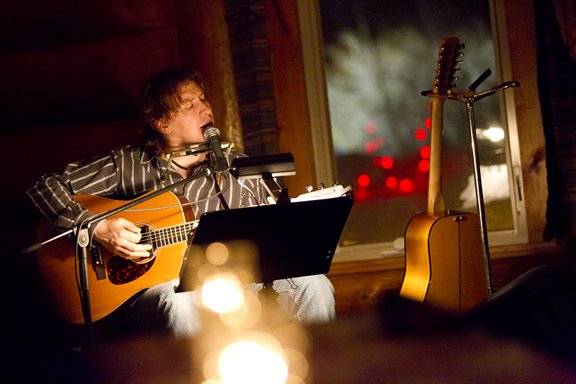 Evening activity (GR)
Make awesome parties with our organized activities!
Choose from one of our evening activities and make it a memorable one! Our whole team is ready to take care of the organization and the animation of these evenings. It's up to you to choose between:
Dancing evening
Band night
Casino night
Karaoke night
Quebec language evning
Team bulding (GR)
More the merrier, the merrier!
Animate your meeting with our activities organized by our animators! A party of fun at the rendezvous; it's guaranteed! Choose between:
Forest survival workshops
Mini-olympics
The adventures Fort Taureau (inspired by Fort Boyard)